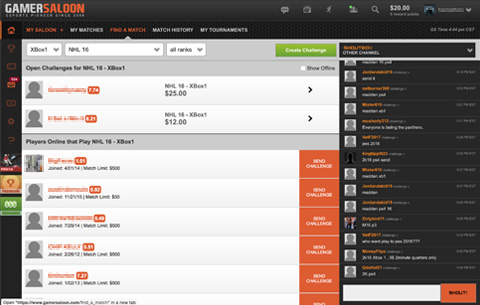 Finding an Opponent
The Shoutbox - A live chat board used to interact with other users and set up matches.
Find A Match - Allows you to search for and challenge any player actively logged on that has played a specific title on a specific console.
Open Challenges - Challenges posted by players actively logged on open for all members of the community to join.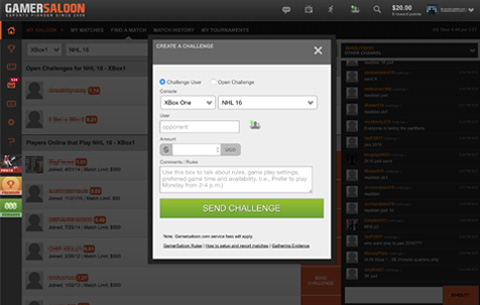 Sending a Challenge
Challenges can be sent to players from their profile. Click a players name on the Online Now list or in the Shoutbox, click challenge, then select the game, console, amount and rules. Once a challenge is sent the details are posted under My Matches on the My Saloon page and your opponent is sent a message through their mail box with the challenge details.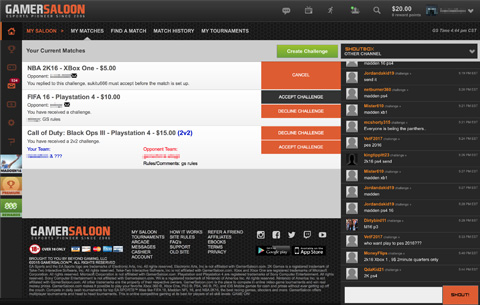 Accepting a Challenge
Anytime a player challenges you the match details as well as the option to accept or decline the challenge will be posted under My Matches on the My Saloon page. You will also receive a message through your mail box.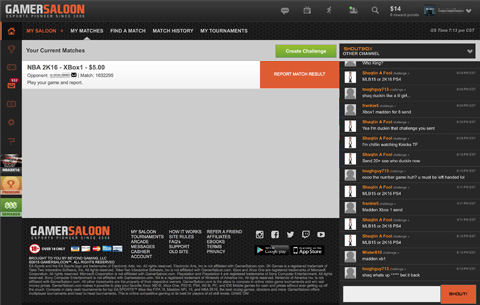 Ready to Play
Setting up a match is a 3 step process. Player A sends the challenge, Player B accepts, Player A finalizes the match and locks it in. Once the match is ready to be played the report option will become available under My Matches on the My Saloon page. Do not start playing until the match is locked in and the report option is posted. If the match does not lock in there is no binding agreement for us to enforce.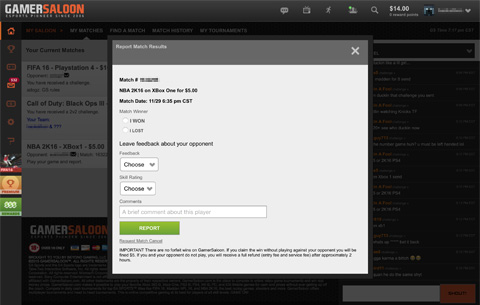 Contacting Opponent & Reporting Results
At any point that you and your opponent are ready to play, you will want to send them a message with your online gamer tag or persona and establish a place to meet online to play the match. Upon completion of the match, report your results under My Matches on the My Saloon page.